Renovations
Looking to restore, refurbish or modify your existing home rather than move or build a new one?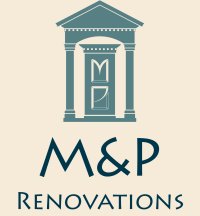 It could be out of love for your current neighborhood or lot. Perhaps the history of an older home draws you in, but modern amenities are a must. Possibly a growing family or becoming empty nesters has sparked a desire to transform a space.
We strive to provide design solutions of lasting value by understanding what you want to accomplish. In our experience, it is important to pay just as much attention to what you want to keep, as to what you want to change.
We understand the complexities of dealing with an existing structure, and work in a timely manner, as a large percentage of homeowners continue to occupy their home during the remodeling project.
Whether you are embarking on a home project large or small, M & P Renovations can make it happen.
Insight from M&P Renovations

Rather than adding on to your home, consider renovations such as reconfiguring existing space by taking out a wall or two.



One dramatic way to transform a space is to add multiple windows or French doors, allowing natural light to fill the room.



Consider enhancing window and door trim, adding shutters or installing outdoor lighting.



Sometimes structural changes are necessary to create better proportion, such as raising a roofline, or adding a gable to dormer.



When planning an addition, consider the scale. The addition should never overwhelm the existing house.



Work with the architectural style of the original house to achieve a result that looks as though it's always been there.


&nbsp &nbsp &nbsp &nbsp &nbsp &nbsp &nbsp &nbsp &nbsp &nbsp &nbsp &nbsp &nbsp &nbsp &nbsp &nbsp &nbsp &nbsp &nbsp &nbsp &nbsp &nbsp &nbsp &nbsp &nbsp &nbsp &nbsp &nbsp &nbsp &nbsp &nbsp &nbsp &nbsp &nbsp &nbsp &nbsp &nbsp &nbsp &nbsp &nbsp &nbsp &nbsp &nbsp &nbsp &nbsp &nbsp &nbsp &nbsp &nbsp &nbsp &nbsp &nbsp &nbsp &nbsp &nbsp &nbsp &nbsp &nbsp &nbsp &nbsp &nbsp &nbsp &nbsp &nbsp &nbsp &nbsp &nbsp &nbsp &nbsp &nbsp &nbsp &nbsp &nbsp &nbsp &nbsp &nbsp &nbsp &nbsp &nbsp &nbsp &nbsp &nbsp &nbsp &nbsp &nbsp &nbsp &nbsp &nbsp &nbsp &nbsp &nbsp &nbsp &nbsp &nbsp &nbsp &nbsp &nbsp &nbsp &nbsp &nbsp &nbsp &nbsp &nbsp &nbsp &nbsp &nbsp &nbsp &nbsp &nbsp &nbsp &nbsp &nbsp &nbsp &nbsp &nbsp &nbsp